After a busy weekend, Monday morning was time off for us.
Whilst shopping, i decided to pop into Hailsham Camera Centre, a very old school camera shop that has been running longer than i care to remember.
At the back of the shop, there is a cabinet of vintage cameras for sale and i couldn't resist a little 35mm camera that dates back to the 1950s and seems to be in great working order. Only putting a film through it, will prove this of course and i can't wait to get started on a few personal film projects i have in mind.
My "new toy" is a
Voigtlander Vito B
and as it is the version with the smaller viewfinder it must have been made between 1954-57.
After 16 years as a professional wedding and portrait photographer, shooting on film and digital auto focus 35mm SLRs and medium format cameras, it will be challenging but refreshing to go back to the very basics with a beautifully made manual focus camera with no battery power, meter and of course LCD screen!. Better still it was a relative bargain and therefore i couldn't resist.
This
other article
should help me get up and running.
Assuming all works OK, i will be sharing a few images from the projects i will be setting myself and who knows i might even end up expanding on my "new old toys"!
Here a montage of the little Vito B. Its tiny so very portable!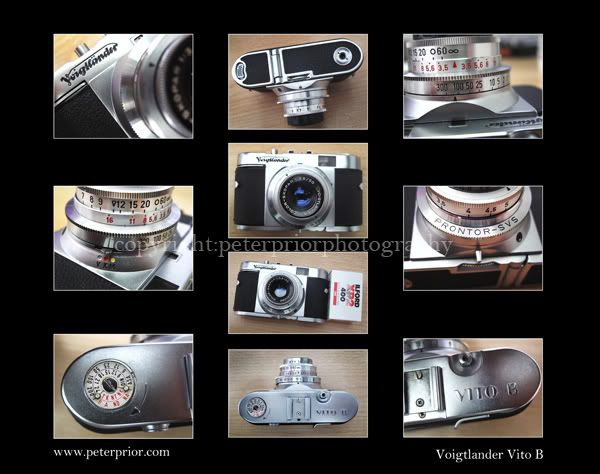 I love old cameras and have a
1930s Reflex Korelle
that was owned by my late Grandfather. I am intending on trying to get this serviced and up and running this year, although this has been a project for the past 10 years or so!